Posts
Powered by GTranslate - multilingual website solutions.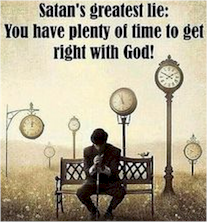 Podcast: Play in new window | Download
Do not Boast about Tomorrow
Tomorrow never truly comes.
"Tomorrow, tomorrow, I love you, tomorrow; it's only a day away!" "Let's talk about tomorrow." "Tomorrow is the perfect time to do anything." These are some of the many sayings regarding the idea of tomorrow. Some people are excited about what will happen tomorrow; others procrastinate till tomorrow. However, tomorrow never comes; therefore we should not boast about it! We are really always living in today.
You do not know what a day may bring forth.
Proverbs 27:1: "Do not boast about tomorrow, for you do not know what a day may bring forth." We do not know how the future will be, whether good or bad. Sometimes things happen today that affect it. Tomorrow may be better than expected, worse, or even as expected; we just don't know.
We are not guaranteed another day.
James 4:13-16: "Come now, you who say, 'Today or tomorrow we will go to such and such a city, spend a year there, buy and sell, and make a profit'; whereas you do not know what will happen tomorrow. For what is your life? It is even a vapor that appears for a little time and then vanishes away. Instead you ought to say, 'If the Lord wills, we shall live and do this or that.' But now you boast in your arrogance. All such boasting is evil." We are not even guaranteed another day! Our lives are very short; in fact, for some it is shorter than others. Even today I was reading the online newspaper from my hometown and learned of recent road accidents taking the lives of young individuals.
This night your soul could be required of you.
Luke 12:19-21: "And I will say to my soul, 'Soul, you have many goods laid up for many years; take your ease; eat, drink, and be merry.' But God said to him, 'Fool! This night your soul will be required of you; then whose will those things be which you have provided?' So is he who lays up treasure for himself, and is not rich toward God."
Do we take tomorrow for granted?
Are we ready now in case the Lord should return? Let us not boast in thinking we can wait and become a Christian; rather, let us be ready to be saved right now (2 Corinthians 6:2)!
---