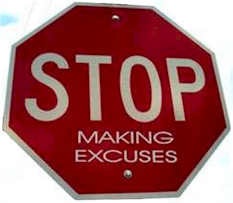 So called reasons are really no excuse.
Have you heard any of these lame excuses before?
"The dog ate it!"
"My alarm clock failed to go off."
"I have a headache."
Have you ever used any of these "no excuse" lines yourself? They don't always work; they are not always true. The fact is, some people give excuses to get out of doing something that they should do. Then reality sets in. Parents, teachers, and bosses do not accept these "no excuse" reasons. God will also accept no excuse.
Moses tried to make excuses when God called to him from the burning bush (Exodus 3-4). God accepted no excuse from Moses. Instead, God helped him overcome his excuses. God does not accept our excuses either! Paul said that the world God created shows us that there is a Creator! The world we see proves there is a God we cannot see (Romans 1:19-21). We have no excuse.
That same God loves the world. He sent His only begotten Son to save it from sin (John 3:16). Jesus exposed men of sin, and died to take away all sins! He even said, "If I had not come and spoken to them, they would have no sin, but now they have no excuse for their sin (John 15:22)." Man must realize he has sinned, and do something about it! No excuse.
If one follows God's plan for dealing with sin, he can enjoy an eternal feast. Jesus taught a parable of a man who prepared a great supper, inviting many. Sadly, those invited made excuses: one bought a piece of ground and had to see it, another bought five yoke of oxen and had to test them, and even another married a wife. None of invited were able to attend that great supper (Luke 14:15-24). No excuse was accepted. God has prepared an eternal home for us; if we make excuses, we'll miss out! Accept His salvation right now.
---