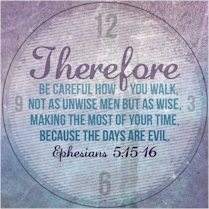 The passing of time can be deceptive. Spend it wisely.
For years I've heard others say, "The older I get, the faster time goes." I really didn't understand what they meant until recently. I suspect that's a sign that I'm getting older, myself.
When we are young we don't think a lot about time. We have a lifetime ahead of us. There is no need to contemplate the future and the passing of time. As we get a little older, we start thinking about getting out of school, getting a job, making money, and having a family. Before we realize it, we've done those things and the passing of time happens. Our family is raised, and we're left scratching our heads and asking, "Where did the time go?"
It's no wonder Moses wrote: "…we spend our years as a tale that is told.  The days of our years are threescore and ten; and if by reason of strength they be fourscore years, yet is there strength, labor and sorrow; for it is soon cut off, and we fly away" (Psalm 90:9, 10).  James, the brother of our Lord, said much the same thing when he asked, "What is your life?"  His answer: "It is even a vapor (a puff of smoke), that appeareth for a little time, and then vanisheth away" (James 4:14).
I suspect one of the most frequent mistakes we make is our failure to utilize our time wisely. The devil likes delays. Whatever it is, if we ought to do it, he's saying, "Put it off! Wait until tomorrow! It will keep! Don't get in any hurry!" Sadly, we are prone to listen and the passing of time gets away from us. But, there are some things that are too important to delay. If we do, life and eternity will be filled with regret.
We could all profit from the Psalmist's example. He wrote: "This is the day which the Lord hath made; we will rejoice and be glad in it" (Psalm 118:24). Yesterday is lost forever. Tomorrow is only a promise. But, today is mine. It is a mistake not to make the most of it. It will quickly pass.  There's no time to delay. For those who use the precious moments well, life is an adventure.
Listen to the words of the apostle Paul: "Therefore be careful how you walk, not as unwise men, but as wise, making the most of your time, because the days are evil" (Ephesians 5:15-16).  We should not lament the passing of time, only our failure to use it wisely.