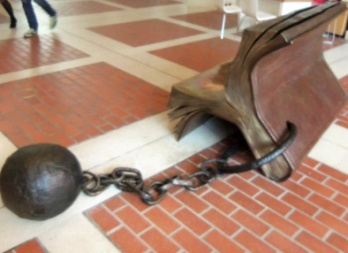 The ball and chain pictured above is how many people view God's Word.
Like the ball and chain, it remains near, but is not useful. They leave it on the table or on the church pew. However, this was never God's intention!
Paul told Timothy, "…I suffer trouble as an evildoer, even to the point of chains; but the word of God is not chained. Therefore I endure all things for the sake of the elect, that they also may obtain the salvation which is in Christ Jesus with eternal glory (2 Timothy 2:9-10)." Even though Paul was often in chains, the Word of God has never been and is not chained!
As with Paul, it is our duty to spread the Word of God wherever we go.
Carry it with you! Keep it in the forefront of your mind. After all, it should be "very near you, in your mouth and in your heart (Deuteronomy 30:14)…"
Your words and actions are not chained!
Let others see the gospel of Christ in your life, and always teach the plan of salvation through the gospel of Christ (Romans 1:16).
---