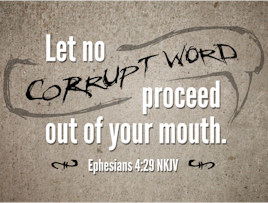 Your Thoughts and Words are Important
It is advisable to "think before you speak."  Many times things have been said without forethought, causing ill will between parties.  However, if we just stop for a moment before speaking, we would bring our thoughts and words under control and "let no corrupt word proceed out of our mouths, but what is good for necessary edification, that it may impart grace to the hearers (Ephesians 4:29)." Thoughts and words will show. If we think good thoughts, good words should follow.
Evil Thoughts and Words Destroyed Them
The wise man wrote, "The thoughts of the wicked are an abomination to the LORD, but the words of the pure are pleasant (Proverbs 15:26)."  A good example of thoughts and words comes from the world in the days of Noah. Every intent of man's heart was only evil continually (Genesis 6:5), and God destroyed them from the earth.  Yes, a heart that devises wicked plans is hated by the LORD (Proverbs 6:16-18).
The Bible is God's Thoughts and Words
On the other hand, good thoughts produce good words! David wrote, "The mouth of the righteous speaks wisdom, and his tongue talks of justice (Psalm 37:30)." Those who seek to follow God and study His word know what to say.  God knows all, and tells us all we need to know through His word.  By studying it, we learn that justice will be served at the end of time; those who are faithful to Him enter into life, while those who are not enter into damnation.
Happy Thoughts and Good Words
Let us dwell on happy thoughts, and speak words of comfort to a lost world.  Through Jesus Christ, there is hope of eternal salvation!